Disclosure: I received a pair of shoes from pediped to review. All opinions are my own based on reviewing these shoes with the help of Abby :). Thank you pediped for making Abbys little feet comfortable and stylish with all natural quality materials.
I've had a chance to review a pair of shoes from pediped and I love them. Even more importantly, Abby loves them. This is very important because she will be wearing them. Abby is not a shoe person, when she walks in the door from pre-school, her shoes come off. We've been desperate to find shoes that suit Abby so she will wear them without putting up a fuss. Pediped shoes are about the next best thing to going barefoot because of their awesome flexibility. It's really hard for children to move around in stiff shoes, don't you agree? I have family members and friends who have bought pediped shoes and really bragged on them so I was excited to be able to review them to see for myself what makes them so special from all of the other brands out there. And besides that when you see Angelina Jolie, Julia Roberts, Sofia Loren and Milla Jovovichs children wearing them, you know they must be a great shoe.
RESULTS: We have had to talk Abby out of wearing her pediped shoes to bed. They'd have to be comfortable for her to want to wear them to bed. She doesn't even like to wear pajamas to bed.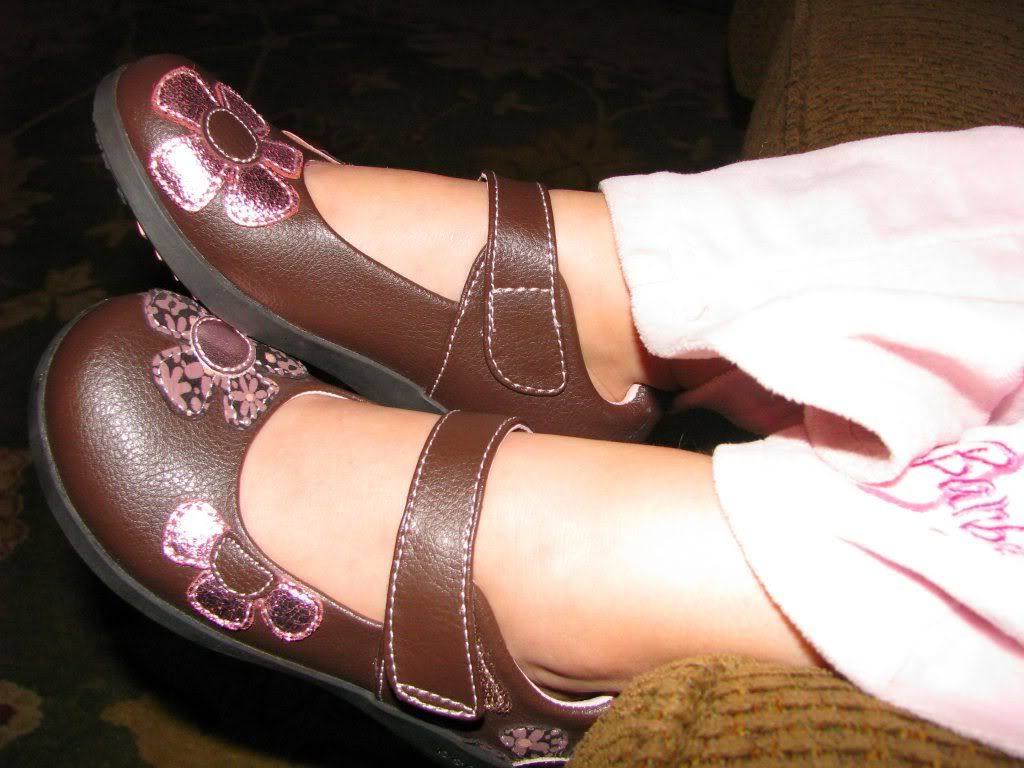 I selected the Flex Abigail Chocolate Brown, Pink so they would match her fall/winter outfits. Browns speak fall to me. And the cute pink flowers just make them all the more adorable and accessorize-able. These shoes can be worn with just about anything. Abby wears them with dresses or pants suits. What I really love about them is that they are approved by the American Podiatric Medical Association for promoting healthy foot development. This is extremely important in a growing child.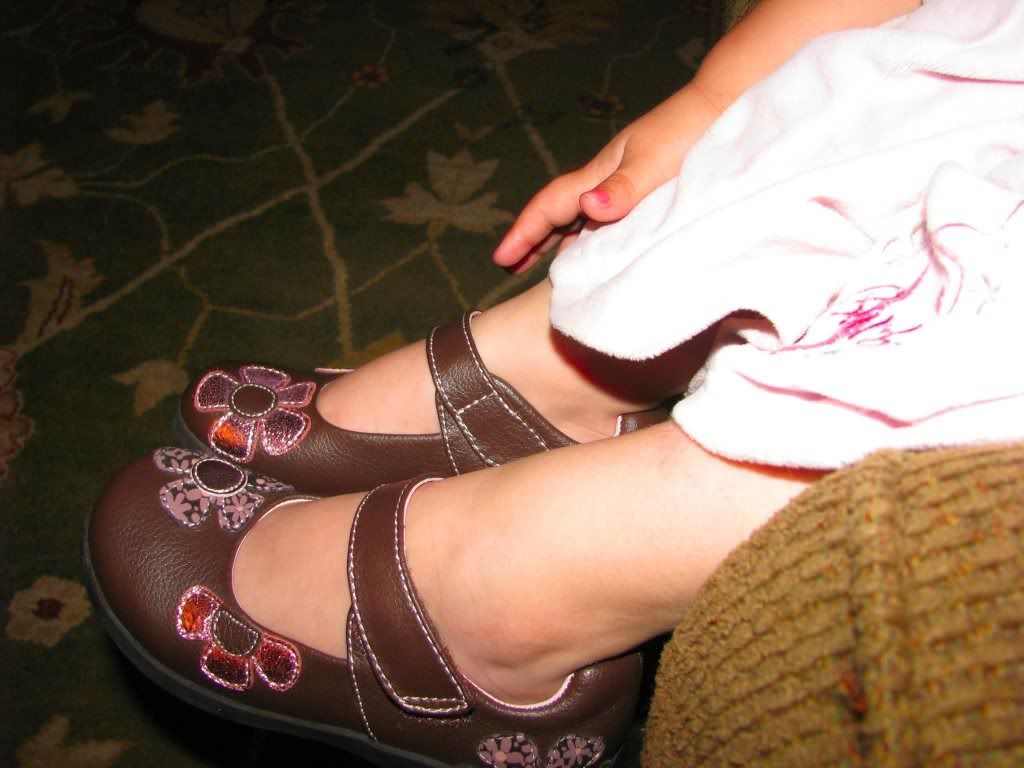 These shoes feature the Flex Fit System™ which extends the length of wear. We added the extra sole insole for a better fit for her little feet. It slipped easily under the insole and Abby was able to slide it under there which proves how easy it was to do. As she grows we can remove it to extend the life of the shoe. We all know how fast kids grow out of shoes. The insole is nice and cushioned and they are the first shoes I have found that provide a true fit for Abby's feet.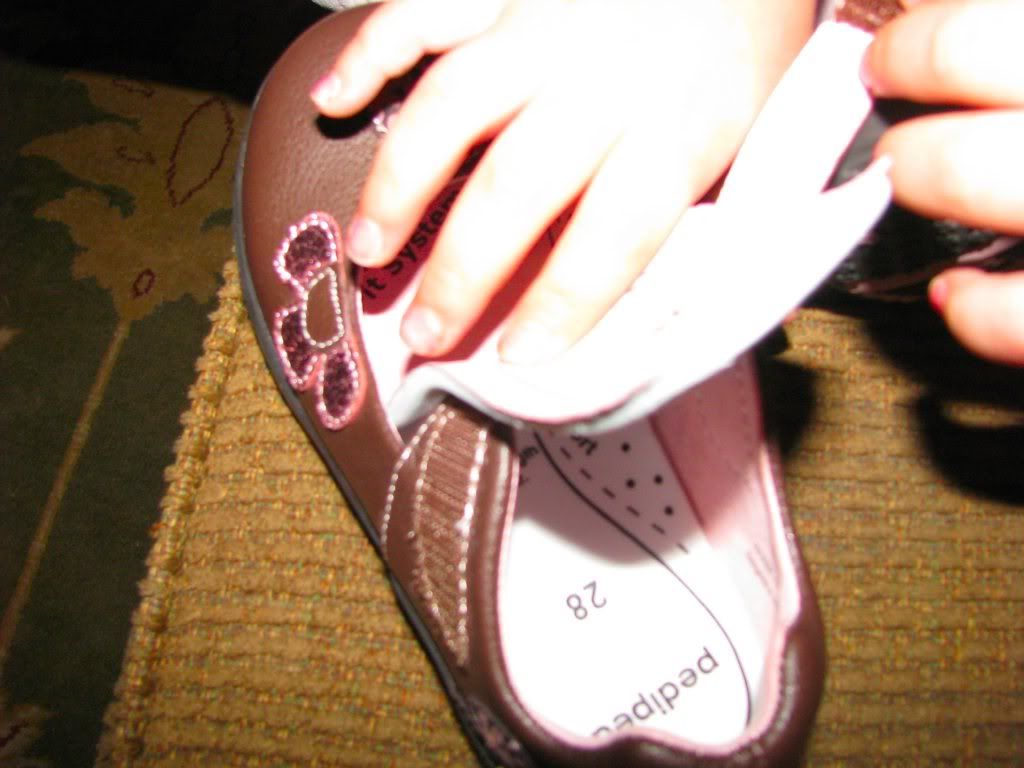 These adorable Mary Jane style shoes provide a strap which makes it easy for Abby to put on herself. She hasn't mastered tying or buckling yet. I bet she has taken them off and put them on herself a couple dozen times already. She is so proud that she can do it by herself. Three-year-old children are learning independence and Abby is no exception. She wants to do everything by herself.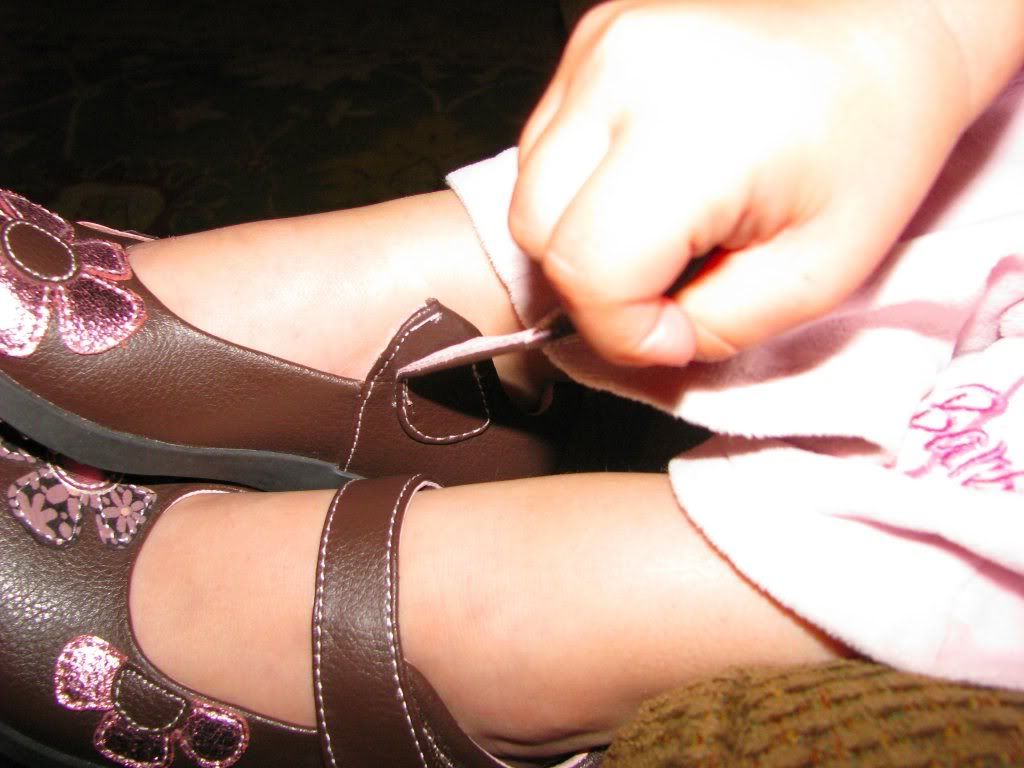 Abby's shoes are made with all natural leather upper and lining (premium grade, non-toxic leather) and they have an all natural rubber sole. I LOVE all natural products. Did you know that the material that shoes are made of can affect fit and comfort? Abby's pediped shoes are durable and they are sure to keep Abby's feet warm during the cold months to come. The rounded tops give her little toes plenty of room to wiggle. If Abby can't wiggle her toes in a shoe I might as well throw them away. She won't wear them. I'd like to point out the arch in these shoes as well. The arch in the pediped shoes conforms to Abby's natural arch.
Pediped offers three footwear lines with so many styles to choose from. Not only are their shoes specially designed to meet the needs of a particular walking stage, they are just so adorably stylish as well. Their mantra is comfort, quality, and style. According to their site pediped® has done extensive research and testing to develop the latest in children's footwear technology, from memory foam insoles to eco-friendly, water-safe and machine washable shoes.
If you are concerned with the long-term growth of your child's/children's feet, be sure to check out pediped shoes today.
With over 120 fashion‐forward styles to choose from, I know you want to rush on over there to see all of the shoes at pediped, but before you go make sure you add pediped to Twitter and facebook to stay up to date.
Have you ever tried pediped shoes? If so what was your experience with them? This is Abby's first pair of pediped shoes, but it won't be her last. I've already got my eye on a pair to buy her for Christmas.